FlexConnect
FlexConnect is a convenient, easy-to-use tool that syncs your medical, dental, and vision benefits to your Health Care FSA plan to streamline claim submissions from a single platform!
Through the FlexConnect portal, you're able to track spending for you and your family and receive notifications when there is an out-of-pocket expense that could be reimbursed from your FSA. Currently, we are interfaced with the majority of Medical, Dental and Vision carriers. Login to you Navia account and click the FlexConnect link to see if we're integrated with you insurance carrier!
How does it work?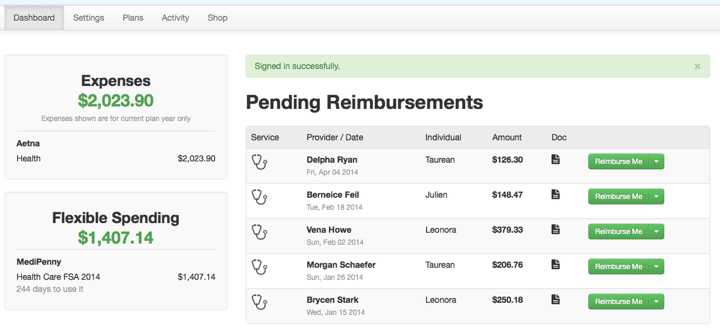 You provide your login information to your insurance. As you receive treatment or services that are covered by insurance, your insurance claims will be periodically downloaded into the FlexConnect platform.
FlexConnect will identify which claims are reimbursable through your FSA and a "Reimburse Me" button will appear next to those claims. Simply click "Reimburse Me," and FlexConnect will prepare and submit your claims using your Explanation of Benefits (EOB) from your insurance claim as documentation!
Why should I use FlexConnect?
Expenses and balances in one place!

FlexConnect gives you a summary of your medical, dental and vision expenses all in one place! You'll also be able to view the amount you've claimed and your remaining FSA balance!

Faster claim submission!

Avoid downloading, scanning or uploading a photo of your documentation. FlexConnect will attach your Explanation of Benefits (EOB) to each eligible claim available saving you time in the submission process.

Perfect documentation. Every time.

No need to worry about submitting proper documentation. FlexConnect submits Explanation of Benefits (EOB) to accompany your claim which gives us all the info we need for approval!